Why are we Eco-Friendly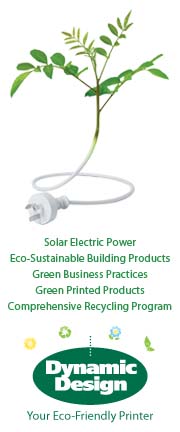 A sustainable business is "One that uses the Planet's
resources at a rate by which nature is able to replenish
those resources." Our approach to this really took when
we purchased a building we remodeled to National
Energy Efficient Design standards. We recycled 100%
of the construction materials, added insulation (there
was none); used non-toxic paints and finishes, and
decided to use as much alternative energy sources as
possible. We installed P.V. Solar Panels, which generate
over 25% of our electric power used by our facility.
We are still the only commercial business using Solar Panels
in the Chagrin Valley area. We buy carbon offsets for all our
employees to cover their commute to work. We "Recycle".
Now when we recommend Eco-Friendly printed products to
our clients, we lead by example.